| | |
| --- | --- |
| Posted on January 27, 2011 at 7:49 AM | |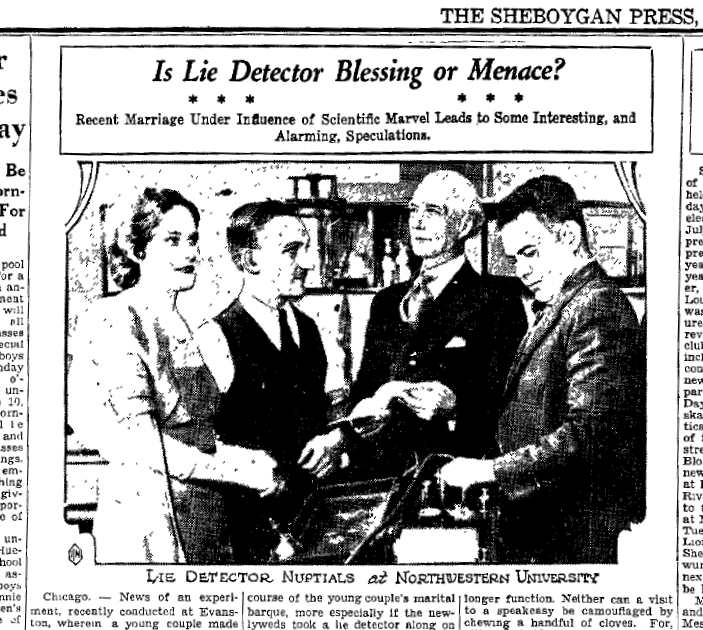 New Scientist TV blog has a clip of a wedding where bride and groom (an some of the guests) had drawn their blood before and after the ceremony to check their oxytocin levels.
But this was not the first time that science was present at a wedding. In the summer of 1932 Vaslav Rund and Harriet Berger were married in the crime detection laboratory of Northwestern University in Evanston, Illinois, connected to a lie detector.
According to "The Sheboygan Press" the device showed that the heart of the bride "almost stopped beating when she said the fateful 'I do'" and the blood pressure of the groom "went up a notch" when he made a similar response, a sure indication according to the researcher Charles M. Wilson (to the right) that "the couple love each other".
Behind the dubious demonstration was Wilsons boss Leonard Keeler, one of the fathers of the lie detector (the other being medical examiner John Larson), who wanted to promote the new device that didn't have the best reputation.
No paper missed out on printing the wedding news though most commentators doubted that the lie detector would be a blessing for a marriage "for love would turn to hate very quickly if a husband always told the truth when wifie asked for his opinion on her new hat".
Contrary to his colleague John Larson who tested his future wifes love with a lie detector Keeler never did the same. Sure enough she left him.