| | |
| --- | --- |
| Posted on February 7, 2011 at 5:19 AM | |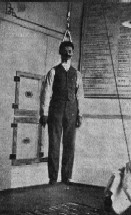 Certain subjects seem to be outside of the range of self experimentation for principal reasons. One of them is hanging. That did not deter Roumanian forensic scientist Nicolas Minovici from trying it (see picture). In his 238 pages long paper Etudes sur la pendaison (Studies on Hanging) from 1905 he not only analyses 172 suicides putting them into different categories like gender, place, season, kind of knot, circumference of the rope - he also tried it himself.
First he did some preliminary trials with a non contracting noose ("I let myself hang six to seven times for four to five seconds to get used to it.").
The pain was almost intolerable as Minovici writes. It persisted for two weeks. Still Minovici felt "comforted by the results" and went for the real thing: He and some of his collaborators put their heads into a regular contracting noose and asked an assistant to hang them – twelve times. Minovici apologizes again and again that "despite of all our courage we could not take the experiment any longer than three to four seconds."
Minovivi must have had a distinct propensity for realism. Although a few inches would have been enough he advised his assistants to pull the rope until his feet were three to six meters above ground.
Recently the wide dissemination of digital video cameras opened a new source for studies on hanging. The Journal of Forensic Sciences just published a grisly paper titled Agonal Sequences in Eight Filmed Hangings: Analysis of Respiratory and Movement Responses to Asphyxia by Hanging. The authors analyzed eight videos of hangings (2 suicides and 8 autoerotic accidents) in order to answer the still debated question what happens when someone hangs themself. Suprisingly they didn't cite Minovicis paper which shall be made up for here.